Top Story
Workstation Configurations that Optimize PTC Creo
June 8, 2023
LiveWorx 2023 presentation reveals how to build and configure a balanced workstation to optimize PTC Creo workloads.
Workstation Configurations that Optimize PTC Creo
June 8, 2023
LiveWorx 2023 presentation reveals how to build and configure a balanced workstation to optimize PTC Creo workloads.
PTC Steers Portfolio Towards Next-Era Digital Transformation
May 17, 2023
SaaS version of Creo and sustainability partnerships headline announcements at PTC LiveWorx 2023.
PTC Tools Help Spark Nuclear Fusion Breakthrough
December 21, 2022
Creo and Windchill were among the key 3D modeling tools used in the development of the National Ignition Facility.
PTC and Ansys Link CAD, Simulation
November 23, 2020
New Creo Ansys Simulation brings simulation to the modeling environment.
PTC Embraces New Digital Reality
June 9, 2020
In a virtual LiveWorx keynote, CEO outlines how PTC's product suite has enabled design and manufacturing productivity during a pandemic.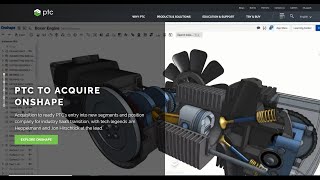 PTC Buys Onshape, xRS Brings Out Use of AR-VR in Training, More
October 31, 2019
In this episode of DE Video News Roundup, CAD and PLM vendor PTC buys cloud CAD Onshape for $470 million, xRS Conference brings out ARVR use in training, CAASE conference now open for paper proposals, DE seeks holiday-themed simulation projects to...
Partner Content
Napkin Drawings with a Digital Touch
October 10, 2019
Sophisticated sketching programs let you capture simple concepts, create masterpieces.
What's Old is New
June 12, 2019
CAD and PLM are playing a starring role in PTC's vision for the digitally-connected industrial enterprise.
PTC Creo 6.0: Even Better than Last Year
June 1, 2019
Enhanced augmented reality, simulation and additive manufacturing tools lead the list of new features.
PTC Creo 6: New Technologies Enhance Pioneering MCAD Software
March 27, 2019
Update to PTC Creo 6 include enhancements to design for additive manufacturing, real-time simulation analysis powered by ANSYS and augmented reality workflows.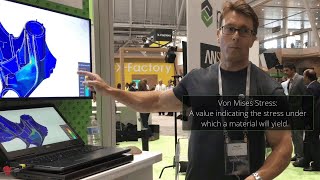 Creo Goes for Real-Time Simulation Feedback
March 19, 2019
Creo Simulation Live embeds ANSYS simulation capabilities directly into the CAD tool interface.
Frustum Acquisition to Add Generative Design Muscle to PTC Creo
November 20, 2018
Slated to debut in future versions of the PTC Creo CAD tool, Frustum's AI-based generative design capabilities will make it easier for engineers to innovate product breakthroughs.
Editor's Pick: PTC Releases Creo 5.0
April 4, 2018
Capabilities for computational fluid dynamics, additive and subtractive manufacturing, as well as topology optimization debut.
elecworks 2018 Offers Integration with Windchill
October 24, 2017
elecworks 2018 from Trace Software reportedly provides more customization and enhanced automatic routing in 3D for PTC Creo.
Editor's Picks for April 27 to May 3, 2017
April 27, 2017
One of the picks will be chosen as DE's Editor's Pick of the Week.
Latest News
Scaling Up AM For Mass Production
Technology is just one piece of the puzzle.
CIMdata Supports the PLM Green Global Alliance
CIMdata's Sustainability and Green Energy Practice Director Mark Reisig will moderate the Alliance's coverage of PLM and Green...
SprutCAM X Updates with Collision Avoidance
Collision Avoidance option now features an updated calculation algorithm.
Introducing Autodesk Fusion Industry Cloud
Built on the Autodesk Design & Make Platform, Fusion industry cloud is designed to transform product design and manufacturing by unifying...
ESTECO, Optimad Partner to Offer Embedded Explainable AI
This venture will bring machine learning and explainable artificial intelligence capabilities into ESTECO software solutions, the company reports.
What Will Digital Twins Look Like in 5 Years?
A clear definition and view of the technology is only now taking shape.
All posts