Top Story
Digital Twins: Two of a Kind
Exploring how digital twins are shaping our digital fabric and engineering future.
As mixed reality systems become more affordable, capable and easier to use, manufacturing is making use of mixed reality for digital twins.
Resources
How Most Companies are Getting it Wrong with Digital Transformation
Most global manufacturers are investing in digital transformation but have yet to see the promised results. This is because they have not yet adopted a modern, platform-based approach to build the Digital Thread.
More Digital Twin Resources
Altair and Chroma Collaborate on Digital Twins for Electric Vehicle Propulsion Testing Systems
July 29, 2019
This effort entails the integration of model-based development simulation methodologies with Power Hardware-in-the-Loop (PHIL) testing to achieve the performance requirements of e-propulsion systems.
Digital Twin Market to Reach $20 Billion by 2025
July 2, 2019
The rising demand for reducing asset downtime, optimizing process time, reducing time to market, reducing asset downtime and improving operational efficiency is proliferating the growth of the digital twin market, according to Global Market Insights. 
Digital Twins: Two of a Kind
July 1, 2019
Exploring how digital twins are shaping our digital fabric and engineering future.
Volkswagen Smashes Time Record At Nürburgring With ANSYS Simulation Solutions
June 4, 2019
Volkswagen's all-electric race car captures second consecutive electric vehicle speed record, showcases e-mobility prowess
Digital Twins and the New Reality
June 1, 2019
As mixed reality systems become more affordable, capable and easier to use, manufacturing is making use of mixed reality for digital twins.
Siemens Launches Capital Load Analyzer Software for Aerospace
May 28, 2019
Making use of an electrical digital twin can reduce aerospace electrical compliance and certification risks.
RAPID+TCT 2019 Drives Additive Manufacturing to Next Level in Motor City
May 24, 2019
Thousands of attendees delve into 3D printing, the future of manufacturing, digital twins, data management and so much more.
Siemens Accelerates Autonomous Vehicle Development With Closed-Loop Simulation
May 23, 2019
PAVE360 extends digital twin simulation beyond processors to include the entire complex ecosystem.
Siemens Introduces Validation Program to Accelerate Autonomous Vehicle Development
May 17, 2019
Siemens' PAVE360 provides a comprehensive environment for multi-supplier collaboration across the automotive ecosystem for the development of next-generation automotive chips, according to the company.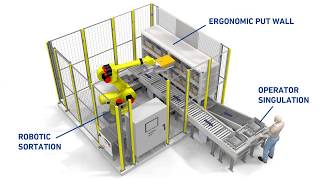 Digital Twins and Cyberphysical Security at AeroDef
May 3, 2019
DE Video News May 3, 2019: Digital twins and cyberphysical security discussions at AeroDef Conf, ANSYS acuires EDA firm
Kicking the Tires on Digital Twins
May 1, 2019
The benefits of virtual representations of individual physical assets aren't just for large enterprises.
Siemens Buys NVH Business from Saab Medav
March 22, 2019
Deal boosts Siemens' Simcenter portfolio with a range of configurable solutions for end-of-line noise, vibration, and harshness (NVH) quality testing.
Altair Highlights Latest Technologies at Hannover Messe 2019
March 1, 2019
Showcase highlights to include a technology demonstrator for predictive maintenance and a digital twin integration platform.
NAFEMS World Congress 2019 Preview
February 20, 2019
The international association for the engineering modeling, analysis and simulation community, hosts the NAFEMS World Congress June 17-20 in Quebec, Canada.
Siemens Updates NX Software with Artificial Intelligence and Machine Learning
February 19, 2019
Latest release of NX software enhanced with new capabilities that leverage machine learning and artificial intelligence technology to create user interfaces based on expected tasks to increase user adoption.
Latest News
WIN Enterprises Announces the MB-65040 Mini-ITX with Intel Scalable Skylake Processor
MB-65040 supports the Intel Skylake-S CPU and Intel H110 chipset.
Auburn University Deploys $1.5 Million Digital X-Ray CT System for Additive Manufacturing Purposes
Customized system enables layer-by-layer quality assessment in real time.
CONTACT Software Issues CONTACT Elements Release with Software Modules
Users can benefit from comprehensive functional enhancements and the integration of agile processes.
Mobile Analysis 3D and 2D CAD Viewer "to Go" Now on Market
The CoreTechnologie 3D_Analyzer Viewer is now available through a mobile license-lending feature.
All posts