Top Story
Simulating the Way to COVID Safety
MSC Cradle CFD simulation explores the impact of ventilation and social distancing on in-door dining scenarios to promote safe practices aimed at reducing the spread.
The combination of laser scanning and autonomous mobility delivers reality capture for building digital twins.
Riven's 3D Data Solution Eliminates New Product Introduction Iterations
February 18, 2021
Riven's new system enables comparison of real-world production with digital design intent and cloud-based collaboration.
Exact Metrology Offers AI-Powered, HD Mode for 3D Scanners
November 13, 2020
This scanning technology provides clean and detail-rich scans for Artec Leo and Artec Eva, the company says.
SMARTTECH3D Premieres New 3d Scanner
October 19, 2020
The new scanner is capturing precise information about the geometries with automatic edge sharpness representation and noise reduction.
EinScan H & EinScan HX Hybrid Light Handheld 3D Scanners Launched
October 13, 2020
EinScan H and HX Handheld Color 3D Scanners are adding a new dimension of 3D Scanning capacity to the EinScan portfolio.
Meet Trek, With Autonomous Scanning and Data Collection Super Powers
September 2, 2020
The combination of laser scanning and autonomous mobility delivers reality capture for building digital twins.
3D Scanning Accelerates Production of Custom Roof Racks 
August 28, 2020
NVision's 3D laser scanning captured the geometry of vehicles' roof profiles and the data was incorporated into the CAD files used to create the custom-fit racks.
Podcast: CT Scanning Improves Product Quality
July 21, 2020
In our latest podcast, Ashley Bray of Volume Graphics describes the benefits of CT scanning for inspection and quality analysis, as well as how the technology combined with the right software can bridge the gap between simulation and reality.
A Head for Reverse Engineering
July 14, 2020
Eco-friendly plant holder designer teams with Exact Metrology on reverse engineering project.
Volume Graphics CT Software Includes Scan-to-CAD Reverse Engineering Capabilities
July 10, 2020
New capabilities support digital twin creation and simulation validation.
Artec 3D Unveils Artec Studio 15 with New Scan-to-CAD Features
May 28, 2020
Scan, create a 3D model and perform scan-to-CAD operations all in one software.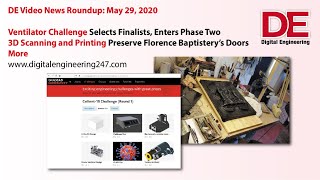 DE Video News Roundup: Update on CoVent 19 Ventilator Design Challenge, 3D Print and Scan in Medieval Church Restoration, More
May 27, 2020
In Video News Roundup for May 29, 2020, the Covent-19 ventilator design challenge enters phase II, 3D printing and scanning firm Prototek helps restore Florence Baptistery cathedral door, Autodesk Fusion 360 adds 3D printing tools, 3D Heals virtual conference set for June
3D Systems Unveils Enhancements to Reverse Engineering Software
May 19, 2020
Unroll/reroll function in Geomagic Design X enables a new modeling workflow for complex revolved parts resulting in a 94% efficiency improvement, company says.
Introducing ATOS Q 3D Scanning
May 8, 2020
It features interchangeable measuring lenses for flexibility and a modern design for portability.
Smart Scanning
April 15, 2020
For those versed in reverse engineering, here's how to stay afloat in the sea of available hardware and software solutions.
NexTech's 3D AR Capture App "ARitize 360" Now Available for Early-Access Signup
March 6, 2020
The company's new CaptureAR App to facilitate the mass adoption of augmented reality.
Latest News
Mastercam Mill Developments Target Streamlined Manufacturing
Multiaxis features, 3D enhancements and 2D high-speed toolpaths combine with dozens of new enhancements in a software package intended to...
MecSoft Releases VisualCAM 2021 for SOLIDWORKS
VisualCAM 2021 is a plug-in that runs inside SOLIDWORKS DESIGN product.
Vertex Names Digital Transformation SVP
Shreekanth Moorthy will oversee digital transformation, business development initiatives.
Cadence Completes NUMECA Acquisition
Deal will add new CFD capabilities to system design strategy.
All posts