Top Story
RAPID+TCT 2019 Drives Additive Manufacturing to Next Level in Motor City
Thousands of attendees delve into 3D printing, the future of manufacturing, digital twins, data management and so much more.
How 3D scanning and an underlying hunger to compete is driving the design quest for reverse engineering in global industry.
3D Scanning Helps Vision Impaired Experience Sculptures 
October 10, 2019
Scanning data was used to 3D-print to-scale replicas of sculptures for a tactile educational experience for the blind and visually impaired. 
Taylor Attachments Modernizes With a 3D Design Workflow
October 2, 2019
Farm equipment manufacturer trades time-consuming manual processes for a streamlined workflow that incorporates 3D scanning and CAD modeling.
Sponsored Content
Reverse Engineering in a Digital World
September 23, 2019
Reinventing the wheel has become a whole lot easier.
Creaform adds Academia 50 3D Scanner to its Educational Solution Suite 
September 19, 2019
ACADEMIA 50 uses structured white light technology to scan objects made of any material, surface type or color, according to the company.
Elysium Enhances Functionality to Model Piping from Point Clouds into Autodesk Revit
September 17, 2019
New capability for modeling directly from laser scans to Autodesk Revit available in InfiPoints version 6.0.
Exact Metrology Offers the Artec Micro 3D Scanner
August 13, 2019
New scanner is Artec 3D's most accurate 3D scanner to date, company says.
Sponsored Content
Editor's Pick: Full-color 3D Structured Light Scanning for Product Design
July 24, 2019
FARO Cobalt Design structured light scanning platform is its first scan platform designed specifically for product development.  
Volume Graphics Releases New Generation of CT Software Solutions
July 12, 2019
Updates in 3.3 include multi-material dimensioning, native Q-DAS support, OCR-based automation, and high-quality volume meshing.
Artec 3D Releases Artec Studio 14 with Functionality for Quality Inspection
June 4, 2019
New features include integration with metrology-grade desktop 3D scanner Artec Micro, target-free registration for 3D laser scanner Artec Ray, and Direct Export for CAD/CAM, Automatic Glare Removal.
Artec 3D Launches Artec Micro Industrial Desktop 3D Scanner
May 21, 2019
Scanner promises quality control of small objects, reverse engineering design and more.
Hexagon Shows Off New Metrology Grade 3D Scanning Laser Tracker at RAPID + TCT 2019
May 20, 2019
Hexagon's Joel Martin, product manager of the Laser Tracker product line, will also present "Laser Scanning from Macro to Micro: What to Use, Where and Why" on May 22, at 2 p.m. in the AM Technical Insights Forum track.
NSI Technical Day June 6 Offers Demos of Latest Digital Industrial X-ray Scanning and Inspection Equipment
May 10, 2019
Joining NSI will be experts from Volume Graphics, a CT data analysis software company that will provide insight into the role of CT in digital product lifecycle management.
Artec 3D Launches Artec Micro Professional Industrial Desktop 3D Scanner
May 7, 2019
Scanner offers quality control of small objects, reverse engineering design and more, a solution for the metrology market, company says.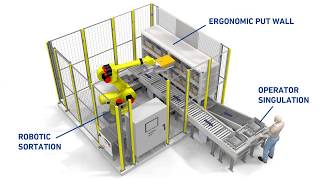 Digital Twins and Cyberphysical Security at AeroDef
May 3, 2019
DE Video News May 3, 2019: Digital twins and cyberphysical security discussions at AeroDef Conf, ANSYS acuires EDA firm
Verisurf 2019 Software Introduced
May 3, 2019
The software offers enhanced CMM programming, productivity features and universal compatibility.
Latest News
Kisters 3DViewStation Offers Advanced Visualization for PLM Systems 
3DViewStation ships with current and mature importers for a broad range of 3D and 2D formats.
Screenhouse, in Chicago's Millennium Park, Enhanced by Fast Radius
Edra Soto art installation built by Navillus Woodworks to officially open in Boeing Gallery North in Millennium Park.
flyingshapes° Launches Virtual Reality CAD Application
Available now for Oculus Rift and HTC Vive, flyingshapes° streamlines design workflows for precise spatial modeling with intuitive haptic controls...
Markforged Opens Manufacturing Facility in Massachusetts
An 81% increase in production over the past year has led the company to open a 25,000-square-foot facility.
All posts