Top Story
Additive Manufacturing is Leaving the Island
With 3D printing growing increasingly mainstream, manufacturing execution systems are a tool against equipment downtime and production floor chaos.
Software-integrated plug-ins and online analysis pave the way for on-demand manufacturing.
Featured Companies
Heidenhain Supports Mastercam to Better Enable 5-Axis Machining
August 15, 2019
New TNC 5X mill post-processor now available for controls.
Hurco Introduces the VMXDi Series of CNC Machines
August 6, 2019
With the new direct drive spindle, the VMXDi series has a better surface finish, quieter spindle and less head growth, the company adds.
Milltronics USA Introduces the VM8434XP Performance Vertical Machining Center
August 6, 2019
The Milltronics XP Series CNC machines are #50 taper vertical machining centers designed for applications that need extra cutting power.
New hyperMILL 2019.2 CAD/CAM Suite Offers Smoother Surfaces, Increased CAD-to-CAM Integration
July 22, 2019
The latest hyperMILL software has a range of new features including high-precision 3D finishing and 5-axis tangent machining.
CRP Technology Debuts Windform FR1 From Family of Composite Materials
July 8, 2019
Composite material is a carbon fiber filled flame-retardant LS material that is rated V-0.
NCG CAM Solutions Celebrates 10 Years with Record Sales Growth
July 2, 2019
End-of-year sales figures have shown a leap in sales, with growth of 41% compared with last year, according to the company. 
NCDMM Opens New Huntsville, Ala., Office to Support U.S. Army
June 17, 2019
NCDMM welcomes Mike Docherty as director of Manufacturing Technology to lead Huntsville office.
America Makes TRX+ @NIAR Technical Review and Exchange Event Headed to Kansas
June 14, 2019
Speakers at the two-day event include Cindy Ashforth of the Federal Aviation Administration, Chris Holshouser of NIAR, and Doug Hall of Battelle.
ZWSOFT Launches ZW3D 2019 SP CAD/CAM Solution
May 30, 2019
It introduces features and enhancements that respond to users' requests, delivering a more user-friendly CAD/CAM solution.
Protolabs Celebrates 20 Years of Digital Manufacturing with Grand Opening of New Facility
May 17, 2019
New advanced manufacturing facility spotlights company's two decades of growth. .
Fabrisonic Launches SonicLayer 1200
May 16, 2019
The SonicLayer 1200 features ultrasonic additive manufacturing (UAM) technology.
Hexagon's Manufacturing Intelligence Division Breaks Ground on New Center in Detroit Area
May 7, 2019
Hexagon's Manufacturing Intelligence division is constructing a new expansion project on a site in Novi, MI, slated for completion in the fall of 2019.
OPEN MIND/ hyperMILL Announce Joint 5-Axis Machining Technology Seminar with GROB Systems
April 26, 2019
During the seminar, experts from GROB Systems and OPEN MIND will demonstrate ways for manufacturers to make their production facility more efficient.
Hexagon Releases Latest Update of EDGECAM
April 25, 2019
New release supports fast 5-axis machining tools; software features barrel cutter support and new gun drilling cycle.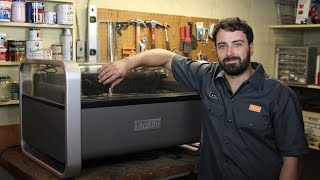 WAZER Offers Desktop Take on Traditional Water Jet
March 19, 2019
WAZER offers sophisticated cutting and material processing capabilities at a price point and with the accessibility of desktop office printers.
Latest News
WIN Enterprises Announces the MB-65040 Mini-ITX with Intel Scalable Skylake Processor
MB-65040 supports the Intel Skylake-S CPU and Intel H110 chipset.
Auburn University Deploys $1.5 Million Digital X-Ray CT System for Additive Manufacturing Purposes
Customized system enables layer-by-layer quality assessment in real time.
CONTACT Software Issues CONTACT Elements Release with Software Modules
Users can benefit from comprehensive functional enhancements and the integration of agile processes.
Mobile Analysis 3D and 2D CAD Viewer "to Go" Now on Market
The CoreTechnologie 3D_Analyzer Viewer is now available through a mobile license-lending feature.
All posts