Altair and Rolls-Royce Germany Partner on AI and Engineering
January 21, 2021
The collaboration is expected to drive transformative business value by reducing development time and costs.
INL Partners with Coreform
January 21, 2021
Collaboration designed to improve open-source modeling and simulation tool MOOSE.
Nexa3D and Keystone Industries Team Up for 3D Printing Solutions
January 19, 2021
Under this agreement, both companies will combine their extensive dental, photopolymer and 3D printing capabilities to deliver 3D printing solutions to the dental market. 
Purdue University Turbulence Model May Aid in Design of Aircraft
January 19, 2021
Engineers enable simulation of complete 'dance' of colliding vortices at reduced computational time.
Protolabs Buys 3D Hubs Online Manufacturing Platform
January 19, 2021
Once integrated, 3D Hubs' customers will have access to a broad set of manufacturing capabilities, pricing and lead-time options, delivered through digitally enabled e-commerce model.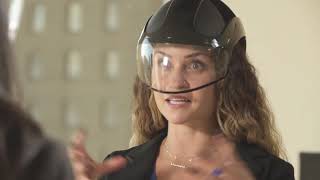 Cool Tech for the New Normal at CES 2021 Virtual
January 18, 2021
AMD delivers keynote touting new mobile processor, virtual CES highlight cool techs for the new normal
Desktop Metal to Buy EnvisionTEC
January 15, 2021
Acquisition will enable ability to enter market for volume product polymer additive manufacturing.
World Design Organization Issues Call for Submissions for World Design Impact Prize 2021
January 14, 2021
Projects should showcase the expanding ways that design can make a positive impact on the world, including the design of systems and experiences.
3D Printed Parts Take Off on Boom Supersonic Flight
January 13, 2021
VELO3D Sapphire 3D printer is the engine for producing challenging titanium parts for XB-1.
Markforged Distributes 3D Printers to Project DIAMOnD Participants in Michigan
January 12, 2021
MI-based Automation Alley poised to run one of the world's largest emergency response networks capable of producing physical objects on demand.
Navantia Leverages Ansys' Digital Transformation Solutions
January 12, 2021
Ansys' offerings to be used to design next-gen naval vessels.
TraceParts Names Christmas Tree Design Contest Winners
January 8, 2021
The contestants had the task of designing a special Christmas Tree using the CAD or image processing software of their choice.
Metal 3D Printing Technology Headed for Brazil
January 8, 2021
SPEE3D has signed reseller agreement with Infocus Laser Systems to represent SPEE3D in Brazil.
Manufacturers to Spend $5.8 Billion on PLM Software by 2026
January 8, 2021
The automotive and electronics sectors are the standouts looking to PLM software to manage their operations.
2021 Coronavirus Updates: Latest Tech Show Events
January 7, 2021
Periodically updated list of engineering, manufacturing, and technology shows cancelled or postponed due to coronavirus concerns.
Latest News
MecSoft Releases RhinoCAM 2021
This is the latest version of MecSoft's fully integrated computer-aided manufacturing (CAM) plug-in for Rhino 6 and 7.
NAFEMS Calls for Abstracts for 2021 Congress
NAFEMS preps for first hybrid Congress, combining the face-to-face event with virtual online components.
e-Xstream Engineering Launches Simulation, Virtual Manufacturing Offerings
The latest Digimat software enables businesses to simulate the 3D printing process and calculate total cost of producing each part.
Three Ways Generative Design is Transforming Business
Generative design is an exploration tool that uses artificial intelligence and machine learning to simultaneously generate multiple solutions based on...
All posts