University of South Florida Health Joins Forces with Formlabs and Northwell Health to Create 3D Printed Nasal Swabs 
March 31, 2020
Purpose is to to test for COVID-19 in patients in emergency shortage situations.
FIU 3D Printing Face Shields for Healthcare Workers
March 31, 2020
Face shields are part of the personal protective equipment that healthcare workers at Baptist Health wear when caring for patients who have or are suspected to have COVID-19. 
Weerg 3D Prints Valves for Emergency Respiratory Masks
March 30, 2020
The company makes its production capacity available to hospitals to  create parts of medical instruments with 3D printing.
BEAMIT to Collaborate With Praxair Surface Technologies
March 30, 2020
BEAMIT specializes in the manufacturing of aviation components through additive manufacturing; Praxair Surface Technologies specializes in advanced coating solutions.
Server and Enterprise Storage Systems Markets to Decline in 2020 as Result of COVID-19 Pandemic
March 30, 2020
Impact on market to be felt worldwide.
UL Study Identifies Safety, Performance Variability for 3D Printed Plastic Parts
March 30, 2020
New Blue Card certification for plastic AM will provide guidance for integrity, safety of 3D printing materials.
3D Systems Assists in Addressing Shortage Related to Medical Devices and Personal Protection Equipment
March 30, 2020
Company announces general availability of COVID-19 module for its Simbionix U/S Mentor simulator.
Stratasys Organizes 3D-Printed Protective Gear Drive to Fight COVID-19
March 30, 2020
Stratasys launches project to enlist 3D printer users to contribute to personal protective equipment production
CAASE20 Conference Goes Virtual
March 30, 2020
Because of concerns around COVID-19, the CAASE20 Conference, originally to be held in Indianapolis, will be presented as a virtual conference June 16-18.
Essentium and LEHVOSS Group Set Up Partnership
March 30, 2020
The partnership opens up the opportunity for the companies to develop high-performance materials for industrial-scale additive manufacturing.
Thousands of students and educators worldwide use Onshape's free Education Plan
March 27, 2020
Fill out the form to get started, or read on to learn more about Onshape Education. 
3Diligent Helping Coordinate Digital Manufacturing Response to Help Restock Vital Personal Protective Equipment (PPE) in Short Supply Due to COVID-19
March 27, 2020
Company is coordinating rapid manufacturing of PPE to ensure supply meets demand.
PTC Invites You to Use Vuforia Chalk for Free Amidst COVID-19 Crisis
March 27, 2020
PTC's remote assistance product, Vuforia Chalk, leverages augmented reality (AR) to enable offsite and on-site employees to collaborate.
Dassault Systèmes' Teams With Partners and Clients to Face COVID-19 Challenges
March 27, 2020
The 3DEXPERIENCE platform on the cloud is fully operational, providing advanced remote work capabilities to organize, plan, track and execute project development remotely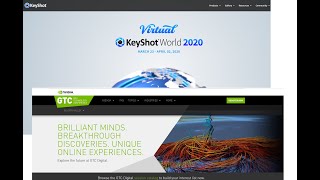 NVIDIA GTC and KeyShot World Go Virtual, 3D Printing Rushes to Produce PPE, More
March 26, 2020
Tech conferences switch to virtual events under lockdown, additive manufacturers spring into action to fight virusoutbreak