Top Story
3D Scan in Full Color
September 19, 2018
Portable integrated arm and laser probe provide color laser scanning.
Exact Metrology Offers the Artec Micro 3D Scanner
August 13, 2019
New scanner is Artec 3D's most accurate 3D scanner to date, company says.
Volume Graphics Releases New Generation of CT Software Solutions
July 12, 2019
Updates in 3.3 include multi-material dimensioning, native Q-DAS support, OCR-based automation, and high-quality volume meshing.
Artec 3D Releases Artec Studio 14 with Functionality for Quality Inspection
June 4, 2019
New features include integration with metrology-grade desktop 3D scanner Artec Micro, target-free registration for 3D laser scanner Artec Ray, and Direct Export for CAD/CAM, Automatic Glare Removal.
Artec 3D Launches Artec Micro Industrial Desktop 3D Scanner
May 21, 2019
Scanner promises quality control of small objects, reverse engineering design and more.
Hexagon Shows Off New Metrology Grade 3D Scanning Laser Tracker at RAPID + TCT 2019
May 20, 2019
Hexagon's Joel Martin, product manager of the Laser Tracker product line, will also present "Laser Scanning from Macro to Micro: What to Use, Where and Why" on May 22, at 2 p.m. in the AM Technical Insights Forum track.
NSI Technical Day June 6 Offers Demos of Latest Digital Industrial X-ray Scanning and Inspection Equipment
May 10, 2019
Joining NSI will be experts from Volume Graphics, a CT data analysis software company that will provide insight into the role of CT in digital product lifecycle management.
Artec 3D Launches Artec Micro Professional Industrial Desktop 3D Scanner
May 7, 2019
Scanner offers quality control of small objects, reverse engineering design and more, a solution for the metrology market, company says.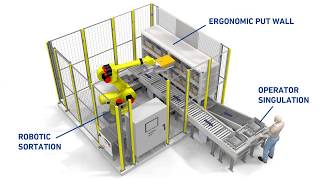 Digital Twins and Cyberphysical Security at AeroDef
May 3, 2019
DE Video News May 3, 2019: Digital twins and cyberphysical security discussions at AeroDef Conf, ANSYS acuires EDA firm
Polyga Expands HDI Compact 3D Scanner Series
April 11, 2019
Polyga adds two more models, the HDI Compact L6 and the C504, to the 3D scanner line.
BigRep Showcases BigRep PRO 3D Printer at Hannover Messe 2019
April 2, 2019
New BigRep 3D printer is automated and 5G connected; showcase marks next step in development partnership between BigRep and Bosch Rexroth.
Hexagon Launches new Laser Tracker Line
March 7, 2019
The ATS600 Metrology-Grade Scanning Laser Tracker provides 3D scanning functionality.
FARO Launches FARO RevEng for Design Professionals
February 21, 2019
This is a scan-to-CAD software solution for the FARO Design ScanArm.
Sponsored Content
Casting a New Future with 3D Scanning
December 6, 2018
FARO ScanArm Effort FoundryAs global competition stiffens, manufacturing sectors of all stripes are embracing emerging technologies in order to meet customer demands.
Sponsored Content
Capture, Measure, Analyze
December 1, 2018
Ensure quality while connecting product design and manufacturing.
Editor's Pick: 3D Scan in Full Color
September 19, 2018
Portable integrated articulated arm and laser probe provide color laser scanning.
Latest News
WIN Enterprises Announces the MB-65040 Mini-ITX with Intel Scalable Skylake Processor
MB-65040 supports the Intel Skylake-S CPU and Intel H110 chipset.
Auburn University Deploys $1.5 Million Digital X-Ray CT System for Additive Manufacturing Purposes
Customized system enables layer-by-layer quality assessment in real time.
CONTACT Software Issues CONTACT Elements Release with Software Modules
Users can benefit from comprehensive functional enhancements and the integration of agile processes.
Mobile Analysis 3D and 2D CAD Viewer "to Go" Now on Market
The CoreTechnologie 3D_Analyzer Viewer is now available through a mobile license-lending feature.
All posts