Top Story
XR Brings Greater Clarity to Automotive Design
January 19, 2023
While the technology is still evolving, it also offers a lot of possibilities to automakers. 
Theorem Solutions Unveils Extended Reality Offering
August 4, 2023
In this release, augmented reality users can now benefit from new embedded QR Code features, which allow for model loading. 
XR Brings Greater Clarity to Automotive Design
January 19, 2023
While the technology is still evolving, it also offers a lot of possibilities to automakers.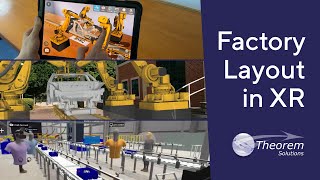 Bridge the Gap Between Digital and Physical by Using XR for Planning and Layout
December 13, 2022
Using Extended Reality (XR) is helping to bridge the gap between the digital and physical when creating and planning factory and plant layouts.
Challenges of Building Out A Live Digital Twin
November 11, 2022
Digital twin technology has developed over time, but what do organizations need to ensure real-time metrics?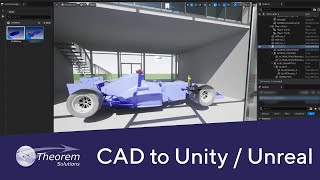 How to Use CAD Data Within Unity and Unreal
October 31, 2022
Extended Reality (XR) provides a range of new opportunities for engineering and manufacturing companies. From new training methods to digital collaboration, XR is set to have a big impact on manufacturing.
3D PDF - Making your CAD Data Portable
August 29, 2022
Published interactive 3D data contained within a 3D PDF file can be shared, viewed and interrogated using the freely available Adobe Acrobat Reader by users and departments who do not have access to native CAD data, but who need a ...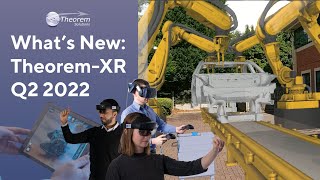 Augmented, Mixed or Virtual Reality
August 24, 2022
The adoption of extended reality (XR) technology in engineering and manufacturing is accelerating at a rapid pace. But what is XR and what are its benefits? Theorem Solutions explains.
Editor's Picks: July 21-27, 2022
July 28, 2022
One of the picks will be chosen as DE's Editor's Pick of the Week.
Theorem-XR Q2 2022 Release Boosts XR Capabilities
July 26, 2022
Company says the new release enables users to "explore the future of 3D visualization."
AR, MR or VR: Which Technology is Right for your Engineering Use Case?
July 26, 2022
Augmented, Mixed or Virtual Reality? This is a key question. You will need to understand the features and benefits of each technology type before looking to build and implement your XR strategy.
3D PDF Insights From the Theorem Experts
July 21, 2022
We recently sat down with our UK Account Manager Clair Baxter, and US Account Manager Matt Pongratz to discuss 3D PDF, and the major benefits it can have for those working in engineering and manufacturing.
Getting Started with Extended Reality (XR)
July 21, 2022
The use of Augmented Reality (AR), Mixed Reality (MR) or Virtual Reality (VR) (collectively known as Extended Reality (XR)) in engineering and manufacturing is still in its infancy, but has seen a steady rate of growth and adoption, especially in...
Digitally Transforming the Design Review Process
July 21, 2022
In only a short time, ATM manufacturer NCR (National Cash Registers) have revolutionized their design review and prototyping processes with the help of Theorem-XR.
Valiant TMS Merged Reality Concept
July 21, 2022
Theorem's Visualization Experience software has provided Valiant TMS with a unique opportunity to visualize 3D CAD models placed directly over real world equipment, tooling and components.
Theorem Solution's 3D PDF Enabling Tool
July 21, 2022
3D PDF enables the creation of interactive PDF documents enriched with 3D content directly from your native source CAD (3DEXPERIENCE, CATIA V5, Creo, JT or NX) that can be shared with NON-CAD users.
Latest News
KittyCAD Updates API, Adds Geometry Engine
Company makes advanced tools for hardware design.
SME Launches 2024 Digital Manufacturing Challenge
High school and undergraduate students are highly encouraged to prepare a submission.
Purdue College of Engineering Launches Interdisciplinary Labs
MMRL brings together 10 faculty, especially young and emerging national leaders, from different engineering disciplines.
Datadvance to Host Upcoming pSeven User Conference 2023
Event will offer coverage of design space exploration and hybrid digital twins.
Can AI Boost Design for Additive Manufacturing?
October 26: Design & Simulation Summit keynote panel to explore how artificial intelligence can improve design for additive efforts.
Cortona3D RapidAuthor 14.3 Debuts
Features include new Applicability Editor, automatic generation of IPC Pages from ModelView in PLM XML, composite illustration, enhanced 2D authoring...
All posts