Top Story
DE Video News Roundup: Update on CoVent 19 Ventilator Design Challenge, 3D Print and Scan in Medieval Church Restoration, More
May 27, 2020
In Video News Roundup for May 29, 2020, the Covent-19 ventilator design challenge enters phase II, 3D printing and scanning firm Prototek helps restore Florence Baptistery cathedral door, Autodesk Fusion 360 adds 3D printing tools, 3D Heals virtual conference set for June
Stratasys Announces Strategic Resizing to Accelerate Growth
June 4, 2020
Measure reflects shift to leaner operating model.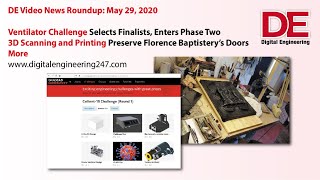 DE Video News Roundup: Update on CoVent 19 Ventilator Design Challenge, 3D Print and Scan in Medieval Church Restoration, More
May 27, 2020
In Video News Roundup for May 29, 2020, the Covent-19 ventilator design challenge enters phase II, 3D printing and scanning firm Prototek helps restore Florence Baptistery cathedral door, Autodesk Fusion 360 adds 3D printing tools, 3D Heals virtual conference set for June
CoVent-19 Challenge Attracts More Than 200 Ventilator Design Submissions
May 8, 2020
Stratasys providing pro bono 3D printing services for global, open-innovation initiative led by Boston anesthesiology resident physicians.
Indy Autonomous Challenge Hosts its First $1.5 Million Autonomous Racecar Competition
May 7, 2020
A total of 37 universities that excel in AI software and autonomous vehicle engineering have formed 31 teams to officially enter this first-of-its-kind challenge.
Editor's Picks: April 23-29, 2020
April 30, 2020
One of the picks will be chosen as DE's Editor's Pick of the Week.
CoVent-19 Calls on Engineers to Design Ventilators
April 2, 2020
GrabCAD, StrataSys, Ximedica launch design challenge to address ventilator shortage
Stratasys Organizes 3D-Printed Protective Gear Drive to Fight COVID-19
March 30, 2020
Stratasys launches project to enlist 3D printer users to contribute to personal protective equipment production
Siemens Mobility Further Invests in Stratasys 3D Printing Solution
February 28, 2020
Two Stratasys Fortus 450mc 3D Printers mark the start of Siemens Mobility's 'Easy Sparovation Part' expansion to Russia, enabling rapid spare part production for 16 high-speed trains in operation.
Editor's Pick: Latest PolyJet 3D Printer Offers "Designed for Designers" Feature Set 
February 19, 2020
Stratasys J826 PolyJet 3D printer rounds out the company's line of line of full-color, multi-material photopolymer 3D printers as a model "designed for designers."
Stratasys Introduces Mid-Range 3D Printer 
February 13, 2020
The new J826 provides full-color PolyJet printing at a lower cost.
Editor's Picks: Feb. 6-12, 2020
February 13, 2020
One of the picks will be chosen as DE's Editor's Pick of the Week.
MakerBot Launches SKETCH Classroom for Educators and Students
February 5, 2020
The SKETCH Classroom incorporates MakerBot's complete education ecosystem.
Stratasys Appoints Yoav Zeif as New Chief Executive Officer
December 17, 2019
Executive leader chosen to drive strategy, go-to-market and growth acceleration.
New Software Targets AM Pain Points
December 13, 2019
As production-grade additive manufacturing gains ground, vendors roll out software to streamline processes and improve outcomes.
Jay Leno's Garage Gets 3D Printing Part Boost
December 9, 2019
The ability to churn out on-demand 3D custom parts helps keep classic cars on the road.
Latest News
Saratech acquires Apex DMS Inc., a Siemens PLM software business, from the Sconce Group
Apex DMS is a Siemens PLM software business, from the Sconce Group.
Siemens Updates Simcenter System Simulation Solutions
These system simulation solutions help enable engineers to rapidly build models before the first physical prototype becomes available.
DE Podcast: Analyst Jon Peddie Explains COVID-19's Effect on the GPU Market
JPR releases graphics market report for 2020 Q1, shipments down, growth blunted by Coronavirus and shutdowns
Mastercam 2021 is Now Released
CAD/CAM developments streamline the manufacturing process from job setup to job completion.
All posts