Top Story
America Makes Receives $1.4 Million NIST Grant
July 6, 2020
The grant is targeted at producing safe and effective 3D printed personal protective equipment.
America Makes Receives $1.4 Million NIST Grant
July 6, 2020
The grant is targeted at producing safe and effective 3D printed personal protective equipment.
CoVent-19 Ventilator Challenge Winner Announced
July 1, 2020
Three finalists selected from more than 200 entries
California Manufacturers & Technology Association (CMTA) Launches Marketplace for PPE
June 29, 2020
Autodesk, Intel Join Effort to Reboot Manufacturing in California
Simulation Charts Course to "Next Normal" Manufacturing
June 26, 2020
Siemens leverages hardware and software portfolio to help manufacturers promote workplace distancing.
When Robotics Intersect a Pandemic
June 25, 2020
Robotics and the technology that drives them have stepped up to the plate to assist health care workers and patients.
Data is the Fuel for Digital Twins
June 22, 2020
A clear-headed data strategy the key to building predictive models.
CAASE20 Keynote: Simulation Governance Can Carry You Through the Post-COVID World
June 17, 2020
On Day Two of CAASE20 Virtual Conference, analysts propose use of simulation governance to cope with engineering in the socially distanced era
CAASE20 Presentation: Justifying Spending More on Simulation During a Crisis
June 16, 2020
Presenter argues investment in R&D during the crisis is the key to beat competition
OnScale and Lexma Launch Moebius LBM CFD Solver
June 9, 2020
Solver made for advanced fluid dynamics simulations.
Purdue Engineering to Host Webinar on Advancing Freight Truck Automation
June 8, 2020
Webinar will focus on how to enhance safety, efficiency in light of COVID-19.
3D Printing Pumps Out Essential PPE
June 4, 2020
Private citizens and corporate enterprises are turning to 3D printing to buttress the limited stock piles of much-needed Personal Protective Equipment (PPE) during the COVID-19 pandemic.
Stratasys Announces Strategic Resizing to Accelerate Growth
June 4, 2020
Measure reflects shift to leaner operating model.
Industry Focus: Design for Medical Devices
May 28, 2020
In this Special Digital Issue, we take a look at how simulation software, 3D printing, and other technologies can be used to improve the design of medical devices.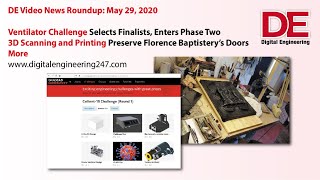 DE Video News Roundup: Update on CoVent 19 Ventilator Design Challenge, 3D Print and Scan in Medieval Church Restoration, More
May 27, 2020
In Video News Roundup for May 29, 2020, the Covent-19 ventilator design challenge enters phase II, 3D printing and scanning firm Prototek helps restore Florence Baptistery cathedral door, Autodesk Fusion 360 adds 3D printing tools, 3D Heals virtual conference set for June
Sponsored Content
Data Science Finds New Role in the Fight Against COVID-19
May 26, 2020
GPU-accelerated data visualization and analysis could lead to a better understanding of the virus.
Latest News
NAFEMS World Congress 2021 Issues Call for Papers
Salzburg event will provide in-person and online options for attendees.
Siemens to Release Solid Edge 2021
New release includes subdivision modeling and improved reverse engineering.
Sponsored Content
Mixing Personal and Professional Computing with a Secondary Screen
Revisiting the use of multiple displays in the era of COVID-19
Sponsored Content
Additive Manufacturing Evolves Past Prototyping
New simulation and material advancements are making 3D printing viable for end use part production.
All posts