Top Story
Industry Leaders Shift Strategies to Harvest AI Spring
December 1, 2023
AI-powered simulation and natural language input poised to become the norm.
Industry Leaders Shift Strategies to Harvest AI Spring
December 1, 2023
AI-powered simulation and natural language input poised to become the norm.
Dassault Systèmes Releases SOLIDWORKS 2024
November 28, 2023
Company says new release enables users to create experiences smarter, faster, together.
Twin Tech and the Smart City: A Natural Pairing?
October 19, 2023
The question is whether the digital twin can take the smart city into the mainstream.
US DoE Puts $2.85 Million Toward 3D Printing Modular Wind Blades
October 13, 2023
Funding was awarded to Purdue University and its industry partners, including Thermwood, TPI Composites Inc. and Dassault Systèmes.
Advanced Tech Takes Stage at Paris Air Show 
October 12, 2023
Electrification, digitally integrated factories, urban air mobility and more round out event's lineup.
"Emma" Virtual Twin to Drive Healthcare Innovation
September 28, 2023
Avatar designed to raise awareness of how virtual twins can be tapped to understand diseases and treatment effects.
Dassault Debuts Emma Twin for Healthcare Innovation
September 21, 2023
An avatar was designed to raise awareness about how virtual twins are advancing healthcare.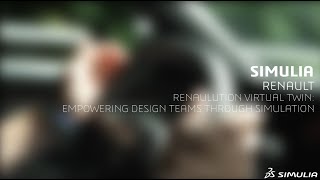 Pascal Remusan - MODSIM Pioneer
September 14, 2023
Pascal Remusan of Renault Group, talks about his presentation at the 3DEXPERIENCE Modeling & Simulation (MODSIM) Conference 2022.
MODSIM – Unified Modeling and Simulation
July 24, 2023
MODSIM unifies modeling and simulation on a common data model within a single user experience on the 3DEXPERIENCE platform.
3DEXPERIENCE Modeling & Simulation Conference
July 24, 2023
This year's virtual event will focus on game-changing technology from CATIA, SOLIDWORKS, and SIMULIA, inspiring managers and leaders to design and innovate the next generation of products on one business platform.
NextGen Design | Webinar Series
July 24, 2023
In this ongoing series, learn how to accelerate your product development with unified Modeling and Simulation (MODSIM).
Join the MODSIM Community
July 22, 2023
Experience MODSIM in a collaborative community that brings together simulation, modeling, and design experts from around the world including customers and Dassault Systèmes R&D experts.
EPLAN Enters Tech Partnership with Dassault Systèmes
July 21, 2023
The interface between the EPLAN Platform and the 3DEXPERIENCE platform of Dassault Systèmes will be expanded by both parties working together.
Unified Modeling And Simulation (MODSIM) For Sustainable Product Development
July 20, 2023
Companies in all sectors must address the need for greater sustainability to meet customer demands. The development of new products necessitates rigorous testing and evaluation, while efforts must be made to decrease emissions and operate in a more economical fashion.
Dassault Systèmes, ISAE Group Partner
June 27, 2023
The six top aerospace engineering schools in France will integrate Dassault Systèmes' 3DEXPERIENCE platform into its training programs for 7,000 students.
Latest News
What Will Digital Twins Look Like in 5 Years?
A clear definition and view of the technology is only now taking shape.
NAFEMS Gears Up for 2024 NAFEMS Americas Conference
The biennial regional conference will take place July 9-11, 2024 in Louisville, KY.
Materialise Releases 3D Printing Trends for 2024 Video
This year Materialises suggests that 3D printing isn't just increasing—it's shifting.
All Signs Point to Maturing AM Market
AM technology is finally primed for production-grade parts while new software enables more seamless design-to-print workflows.
Altair Updates with RapidMiner 2023 Platform
Updates include auto-clustering, expanded SAS, Python and R coding capabilities.
SME Education Foundation Awards Sustainability Funds to SME PRIME Schools
SME PRIME is tailored to meet the needs of local manufacturers and is aligned with over 30 industry recognized certifications, according...
All posts