Top Story
Cloud Engineering Simulation: A Game Changer for Design Engineers
December 11, 2019
By combining powerful multiphysics solver technology with the limitless compute power of cloud supercomputers, engineers can create true Digital Prototypes.
OnScale Enhances CAE Licensing with a Pay-as-you-Simulate SaaS
January 16, 2020
OnScale provides flexibility to engineers by delivering scalable cloud simulation capability to any engineer, anywhere, anytime on any device.
Sponsored Content
Cloud Engineering Simulation: A Game Changer for Design Engineers
December 11, 2019
By combining powerful multiphysics solver technology with the limitless compute power of cloud supercomputers, engineers can create true Digital Prototypes.
Graebert to CAD Vendors: We Can Take You to the Cloud
December 5, 2019
Graebert conference presents the company's expanded vision for the cloud-based CAD technology.
Stratasys Introduces Work Order Management Software
November 25, 2019
New GrabCAD Shop simplifies 3D printing workflow.
ParaMatters Launches CogniCAD 3.0 at Formnext 2019
November 14, 2019
ParaMatters expands Its generative design and manufacturing cloud solutions with new release.
Altium Unveils Cloud-based Application for eCAD Component Management
November 5, 2019
New software made for creation, use and sharing of component data in printed circuit board design.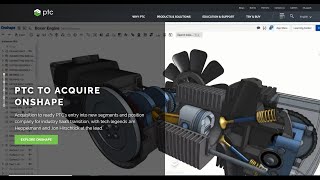 PTC Buys Onshape, xRS Brings Out Use of AR-VR in Training, More
October 31, 2019
In this episode of DE Video News Roundup, CAD and PLM vendor PTC buys cloud CAD Onshape for $470 million, xRS Conference brings out ARVR use in training, CAASE conference now open for paper proposals, DE seeks holiday-themed simulation projects to...
Sponsored Content
Modular PLM: A Successful Strategy for SMBs
October 29, 2019
The best way for SMBs to approach PLM is with a modular, sprint-based implementation, rather than rolling out an entire PLM platform at once.
Companies, Cities Adopt Use of NVIDIA EGX Edge Supercomputing Platform
October 23, 2019
This platform delivers artificial intelligence to factories, wireless networks, stores and more.
Partner Content
The Connected Workstation: More Than the Sum of its Parts
October 10, 2019
SaaS-style simulation apps and on-demand HPC change the role of the classic workstation.
CAE in the Cloud
October 10, 2019
UberCloud presents its 2019 compendium of CAE case studies.
Sponsored Content
Preparing for 5G RF Filter Design with Cloud Engineering Simulation
September 23, 2019
New OnScale white paper outlines efficient simulation-drive design of RF MEMS filters for emerging 5G applications.
Clouds Without Silos are the New Frontier for the Open Design Alliance
September 17, 2019
Open Design Alliance targets CAD interoperability in the cloud with new SDK, development platform, and other tools.
Supermicro Debuts New Edge Systems
August 22, 2019
These new Edge platforms based on Supermicro servers with optional support for Intel Programmable Acceleration FPGA cards deliver local compute and AI inferencing.
The State of Product Development According to Onshape
July 15, 2019
New report shows engineers most interested in transforming early-stage design workflows in areas like collaboration, version control and improved visibility.
Latest News
Get the Most from Advanced Materials
The need for composite and customized materials grows within the product engineering realm, but multiscale modeling and simulation software still...
Essentium Research Reveals Manufacturers Want Open Additive Ecosystems
This is the second in a series of findings from independent global research on the current and future use of...
Kubotek3D Partners with intrinSIM  
Cooperation leverages intrinSIM's engineering software connections to broaden use of the Kubotek KOSMOS Framework.
Radica Software Releases Electrical CAD Software
Electra Cloud provides anywhere access for designers via workstations, smartphones
All posts